Especially for Teams
The Hit Zone is an essential resource for baseball and softball teams of all ages and for all leagues and organizations. It is a place where coaches can help players hone their skills year-round utilizing our tunnels, equipment, and expert instructional assistance. Tunnels with "L" screens and automatic pitching machines can be rented by the half hour or longer with discounts for usage.

We all know how cold and messy spring training can be in New England and how tough it can be to get players ready for the season. The Hit Zone is ideal for rainy weather or off-season skills development.

The Hit Zone's staff represents decades of playing, coaching and training experience. We are delighted to help leagues or individual managers with customized clinics or special lessons set up for any number of players or teams, both at the Hit Zone or at your own fields or facilities.

In addition, leagues and managers can recommend our many camp programs or clinics to their players as a way of helping them get as much quality coaching as possible to reach their full potential and bring a higher level of play to their programs.
Birthday Parties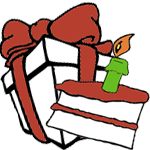 Celebrate your next birthday in our party room. Our birthday party special includes rental in our party room, one hour in our rental cage, two 16" pizzas, two 2 liters of soda and all the fun you can have!
Total Cost - $110.00
Additional pizzas may be purchased for $10 each